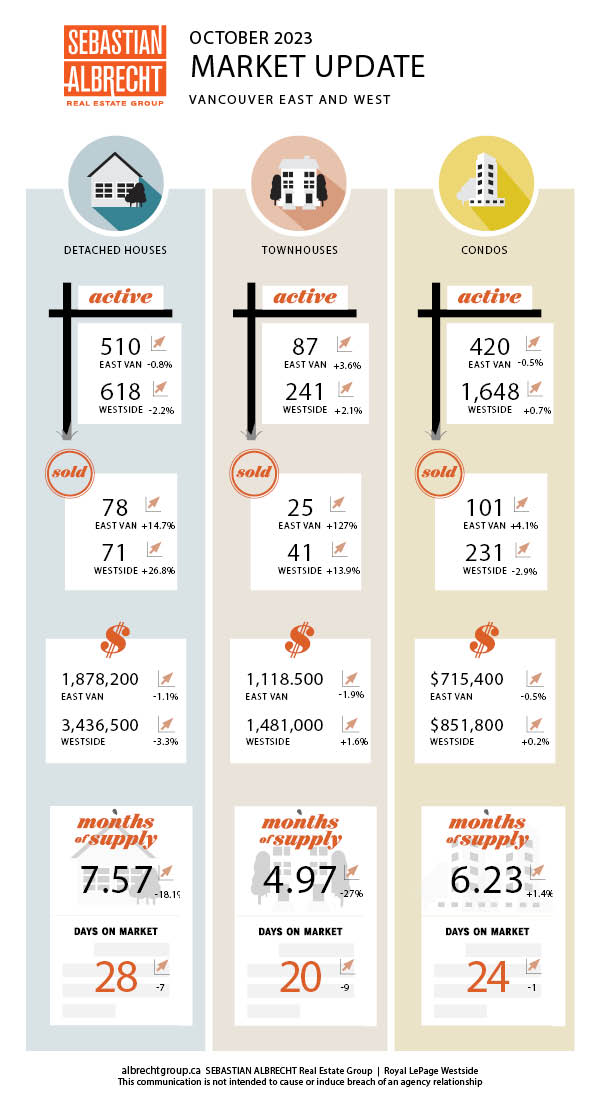 After four months of the Vancouver real estate market softening, October appeared to be a month of consolidation. Back in June 2023 we saw the first signs that the strength of the first few months of 2023 was wavering.
It was at that time that we had a "surprise" interest rate hike from the Bank of Canada. That shock seemed to impact the psychology of our market and sap the confidence of potential buyers.
From June through to September of this year each successive month appeared to show more cracks in the Vancouver real estate market. Sales slowed, listings increased and prices wavered...along with rising interest rates.
But this past month was the first month since June where that slide appeared to slow. Sales increased, new listings slowed and the total inventory on the market remained flat.
Of course, the market isn't uniform throughout the city or even between housing types. The weakest market was for condos, and specifically condos on the westside of Vancouver (eg downtown). This is most likely due to the short-term impact of changes in rules regulating Airbnb's.
And on the other hand, there was sudden and significant strength that returned to the detached house market (on the westside specifically) and for townhouses (in East Vancouver).
While sales increased for the first time in months, prices still (for the most part) slid for yet another month. I don't believe that our market is returning to a strong seller's market just yet...but there are real signs for the first time in a while that a turn may not be far off.
One area to keep an eye on, is the impact of the
new provincial Airbnb regulations
. These don't take full effect until May of next year...but it's possible that they could result in a flood of listings hitting the market in the next few months.
I'm not fully convinced, as I think many of these will simply convert to long-term rentals.
BUT, if there's a significant number of these airbnb listings that get put on the market it will likely impact the condo market the most (this may already be happening with the increasing supply of condos we saw this past month but it's still too early to tell)...and specifically the downtown market (where the majority of short-term rentals were)...resulting in an excess of supply and potentially dragging prices down.
That outcome is certainly possible. But I do believe that the impact would be almost excusively felt in the condo market centred around downtown Vancouver...as well as the newer construction built in the suburbs (such as Burnaby, Coquitlam and Surrey for example).
...if we do see this happening over the next few months it will be a tremendous opportunity to pick up phenomenal high-demand long-term rentals...but a shift in rhetoric from the Bank of Canada and a move to lower interest rates would likely see this inventory picked up VERY quickly.
We usually see market activity slow down from now through early February. I don't think that's likely to change this year...but if interest rates come down at all in the next few months I'm beginning to see signs that next spring could see a strong start to the year (with an eye on those airbnb listings).