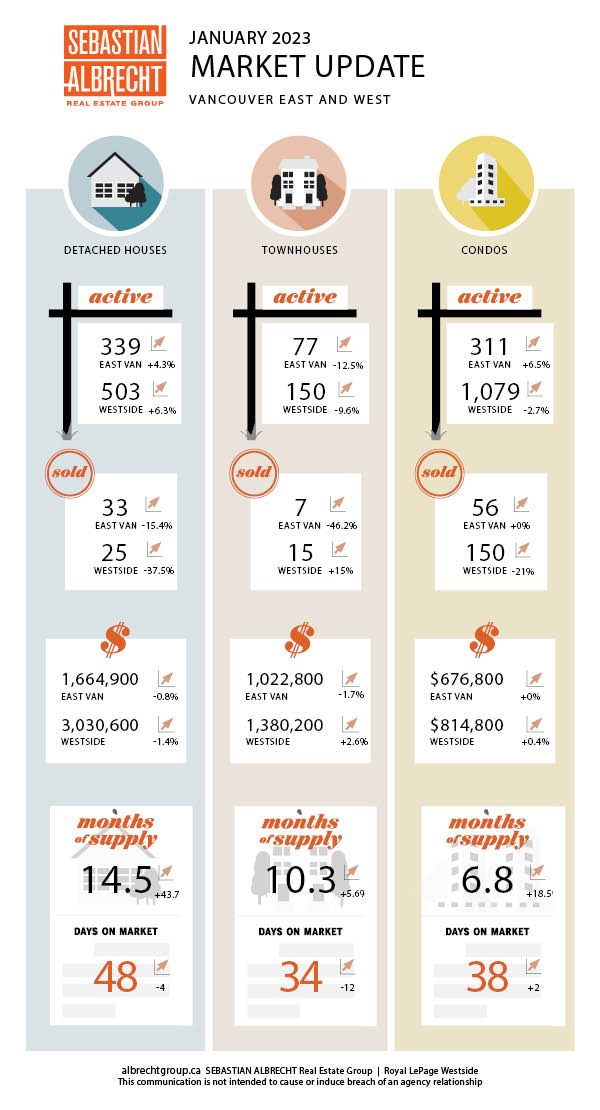 January was very quiet in the Vancouver real estate market.
That's not unusual. January is typically the slowest month of the year...but this last month was unusually slow relative to what we typically see.
ALL activity was well below the 10-year average. But it's sales (demand) that took the biggest dip in January. The 313 sales were -38.4% below the 10-year average (-15.2% m-to-m and -55.3% y-to-y).
New listings increased over December to 1,061 (+170.1% m-to-m and -27.4% y-to-y). This was also down significantly (-29.1%) vs the 10-year average.
Overall listing inventory rose slightly to 2,631 (+0.5% m-to-m and -2.3% y-to-y).
We continue to see more stability/strength at the lower price points in our market. We can see that detached homes continue to become more affordable while lower price points pricing has stabilized in recent months.
Are things going to get worse from here?
I don't believe so, no.
Here's why.
1. Seasonality - January is typically the slowest month for sales. That month is behind us now, and we should see things pick up from here on through the spring.
2. Macro - The primary issue affecting our markets has been a rising interest rate environment. Buyers have been scared to act not knowing just how high interest rates will go. It appears (barring unknowns) that the Bank of Canada is at or very near the end of the tightening cycle. At the very least, fears of 20% interest rates have subsided.
No one can predict the future perfectly, but it does appear that the worst is behind us...and that there is currently an opportunity if you are looking to:
1. Upsize/Upgrade
2. Buy an investment property
3. Buy your first home
Curious on how you might be able to take advantage of the opportunities in this market? Reach out and let's chat!